Mom's Gotcha Covered!

Well Mom, Dad, or Old St. Nick! Whose ever idea it is to catch this terrific deal to the Atlantis resort will definitely be the hero! Treat yourself to a Bahamas vacation and witness paradise! You'll get to enjoy 7 days of heavenly sunshine. Get ready to enjoy the multiple pools, and adventures of this resort! Your family will LOVE this package. A Terrific trip, to a terrific destination, and to a terrific resort? (Guess I was a little repetitive!!) Oh yes - It IS a great idea!
Did you know? - there are sharks in Atlantis! However they are contained in a glass enclosure so yo can feel safe around them. Once you step foot on the grounds of the "Atlantis Resort Complex - You WILL be amazed! And then be prepared for excitement! Take a cool trip - down the water slide at the Atlantis Resort in The Bahamas, plunging into the refreshing pool at the end, and ... HOLY CRAP!! THAT'S A SHARK! Yes, on the "Leap of Faith Water Slide" - An almost 60 foot vertical drop propels you at speeds of 35 miles an hour, culminating with a pass through a clear acrylic tunnel that's submerged in the shark filled lagoon - then out to the swimming pool. (no sharks here!) Don't forget the Dolphin show, or swim with the dolphins!
Bahama's
$1319.00 ~ Per Person
(Per Person - Just The Two Of You)



$899.00 ~ Per Person
(Priced for a family of four)

Packages Include:
5 Nights - Atlantis Resort
Beach Tower - Paradise Island
Roundtrip Airfare & Transfers
Free Waterpark Passes
Resort Fee Included
Free Wifi
Depart March 21st , 2018
Other dates available!
Tax $109.00*

*Priced Per Person
This Price may NOT be available for your dates of travel
Price will NOT be available for Holiday, or Spring Break Travel
Blackout dates apply - (Packages at this price are limited)

Click this link or the pic for a video of the Beach Tower and Atlantis
Atlantis is not only rated the #1 Caribbean Resort, it's rated the #1 Family Resort and has the #1 Water Park in the Caribbean! This resort offers something for everyone, from the world class casino, the perfect PGA golf course, more restaurants than you can even eat at!. Yes, there are 40 restaurants and bars, including Bobby Flay's first foray outside the United States, and a casino and a standout spa. But there is also the largest teen club out there! A culinary center where kids take cooking lessons, an array of "Generation Y" spa treatments and even the Atlantis Speedway where kids and parents can design and build their own remote-control race cars.
Let's not forget the world's largest marine habitat (home to some 50,000 marine animals) and Dolphin Cay, which offers interactions with sea lions and dolphins that even toddlers in diapers can take part.
Turn into a true "Atlantean," wander through "The Dig" in sheer amazement and learning about ancient Atlantis, savoring close-up views of exotic marine animals and enjoying out-of-this world water slides, waterfalls, rapids and rivers, interact with playful dolphins, enjoy mouthwatering seafood, or to simply stroll along the many miles of pristine beaches of Paradise Island.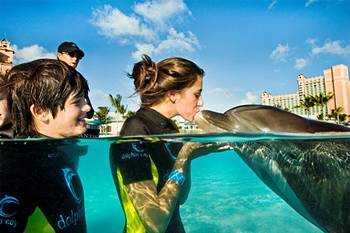 Already an icon among Caribbean resorts: with its one-of-a-kind Atlantis-themed architecture, its gigantic aquariums, acres of "waterscape" with shark lagoons and pools with manta-rays, giant thrill waterslides, special waterplay zone for little kids, kids' pool with slide and waterfalls, sheltered lagoon with beach and aqua-trikes -- not to mention its casino, a marina, and shopping village.
Click me - I'll take you back to the top


---