Repeat After Me: I Deserve This!

Yes you do! Everyone deserves a good vacation. Like adventure? I have it! Like it relaxing? I have It! Time to "Refresh" your life? This is a great start! Grab this package while it's HOT! You DESERVE to get away! And this is a great place to refresh your memories of the "good times" and create new ones! We all know the sun restores our heart, soul, and puts our minds back on track!! Ready? You're heading to a stunning white–sand beach' the Gran Bahia Principe Bavaro (in Punta Cana). This resort has two fabulous lagoon pools that dominate the grounds, abundant sun loungers are spaciously sprinkled in the sands of a seafront palm grove, and across the entire hotel - there's a vibrant Caribbean spirit making this a glorious choice for you.
Punta Cana, D,R.
$1119.00 - Per Person
6 Nights ~ Gran Bahia Principe Bavaro
Superior Junior Suite
Roundtrip Airfare & All Transfers
4 Star - All-Inclusive Resort
Tax $99.00*
*Price is Per Person
This Price may NOT be available for your dates of travel
This price is NOT available for The Holidays, Easter or Spring Break Travel
Blackout dates apply - (Packages at this price are limited)

Click this link or the picture to see more detail of this resort
Surrounded by lush tropical gardens and next to the whispering white sands of the beach, the Gran Bahia Principe is a little slice of paradise. With its large spaces, winning facilities, and a focus on making sure that you have the restful experience you deserve, the Gran Bahia Principe is truly the way to enjoy holidays in Punta Cana.
Offering all exclusive bliss, with a myriad of services available for your indulgence, leaving you to settle back, leave your cares behind, and revel in the exquisite surroundings. Warm, welcoming and well appointed rooms ensure that, once you retreat from the beautiful surroundings of the resort, the atmosphere is continued, with delightful touches such as Jacuzzi and balcony enabling you to relax and recharge in peace and comfort.
Turquoise lake-style pools give a splash of freshness to the resort, while the Bahia Spa offers yet another way to bring some well-earned bliss into your life. Then try a dance class or sip a pina colada on the recliner and feel the most rested you have in ages.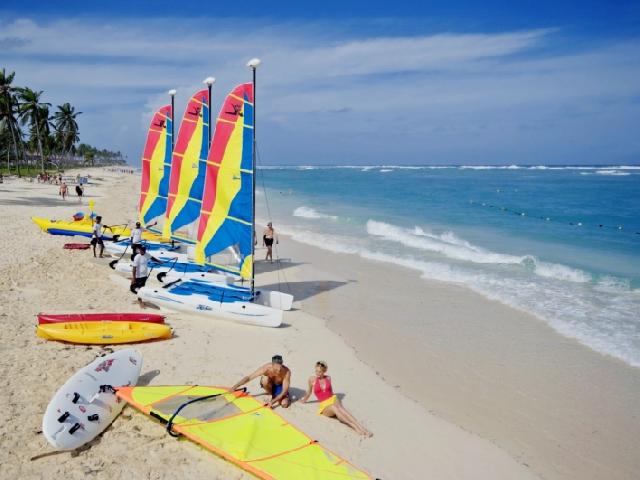 Experienced chefs whip up exciting cuisine in the hotel's six theme restaurants, from French Gourmet to Japanese and Tex Mex; a beachfront bar provides an intoxicating way to enjoy the stunning surroundings, and attentive staff will ensure that your stay is everything you've dreamed of. After dinner retire to on of the lounges, or bring your luck to the casino.
Spend some time at the water sports activity center and try your hand at some of the exhilarating watersports. Everything from windsurfing and catamaran sailing to banana boats and water skiing can be enjoyed when visiting here, ensuring to spice up your Caribbean vacation with some fun an excitement. Learn to play tennis or volleyball, attend some of the classes on muscle building and aerobics, and even take part in traditional meringue dancing. The possibilities are endless when vacationing at the Gran Bahia Principe Bavaro. ($109 tax)

Click Me to go To The Top

---